Blog
3000 miles in 3 weeks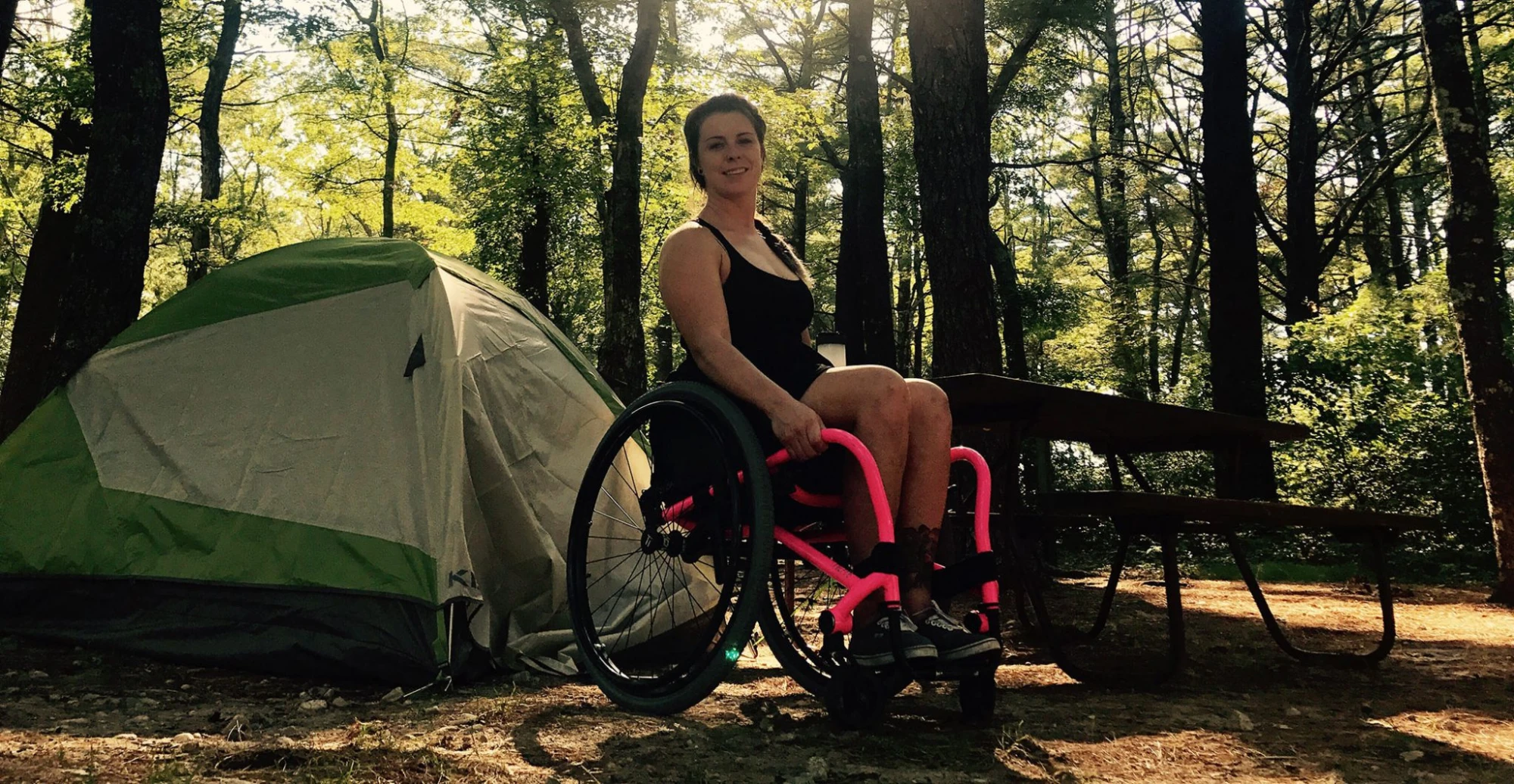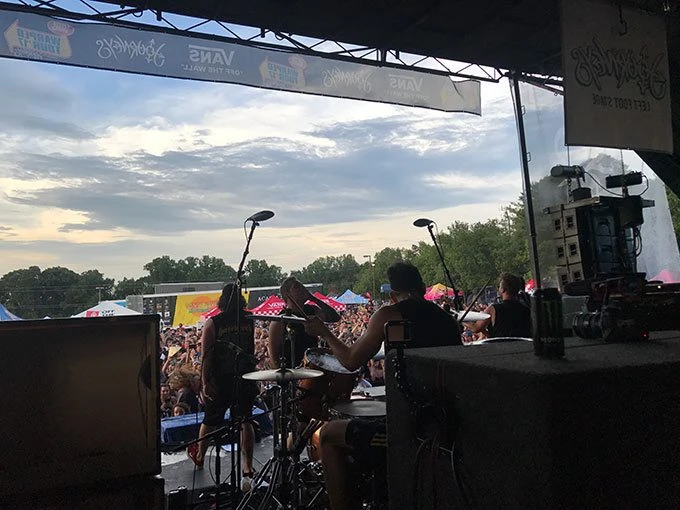 I Prevail, Charlotte 2017
This trip started in Charlotte at Warped Tour before I headed North. Warped Tour was incredible. I saw some of my favorite bands, even getting a braclet that allowed me back staged to every stage.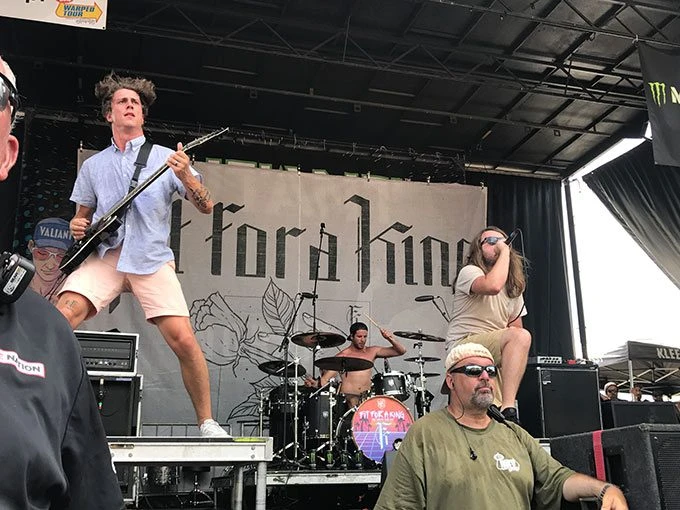 Fit For King, Charlotte 2017
The next day I finished loading up and headed to Sunday Creek for the rescheduled John Penton GNCC. When i pulled in on Friday evening the conditions were wet. Rider registration hadn't opened nor did it show signs of opening. I went to the team trailer, where the rest of the team was packing up to head to the hotel, so i didn't even get out of my car. After heading back to the hotel, I prepped a set of roll off's for the muddy conditions. It was ironic that the weather was as crappy as it was, being that the race was rescheduled due to weather. Saturday morning I kept to myself on the Polaris Ranger the Ashton family hauls to each race to help get me around the pits, (Team UXC is a family, I couldn't ask to be apart of a better team). I was stuck in my head. I hadn't raced muddy conditions in years or since I've been paralyzed. I had the pre-race jitters that I would get before an ATV Race. On the starting line I knew I had to get out front to get my goggles to last through the conditions, so I made a pass for the lead in turn two. I felt freakishly calm. My training is paying off. As I weave through the trees, I see the motocross track. I blow a turn right before it, going through the banner. Crap I think, thats a penalty. So I stopped for a second to let the second place guy around me, but he blew the turn getting a bit hung up, so I continued on. Right before the motocross track there is a dip, well I would hit it the right way to cause immediate noticeable damage. My steering had to be turned to the right for my Polaris Ace to go straight. I fought this for the next lap, even taking out the scoring tent when going through, (sorry about that guys), until my arms couldn't overpower the steering any longer. I headed back to the pits where Michael Swift and Kevin Trantham were gearing up for their 10 am race. They couldn't physically see the damage, besides where the one wheel was off, but I couldn't fight the steering for another lap. To say I was bummed was an understatement. I had not lead a race in my single seat racing career yet. After further inspection the following week, Michael said I had bent the frame. I will be more prepared in late September when GNCC single seat racing continues.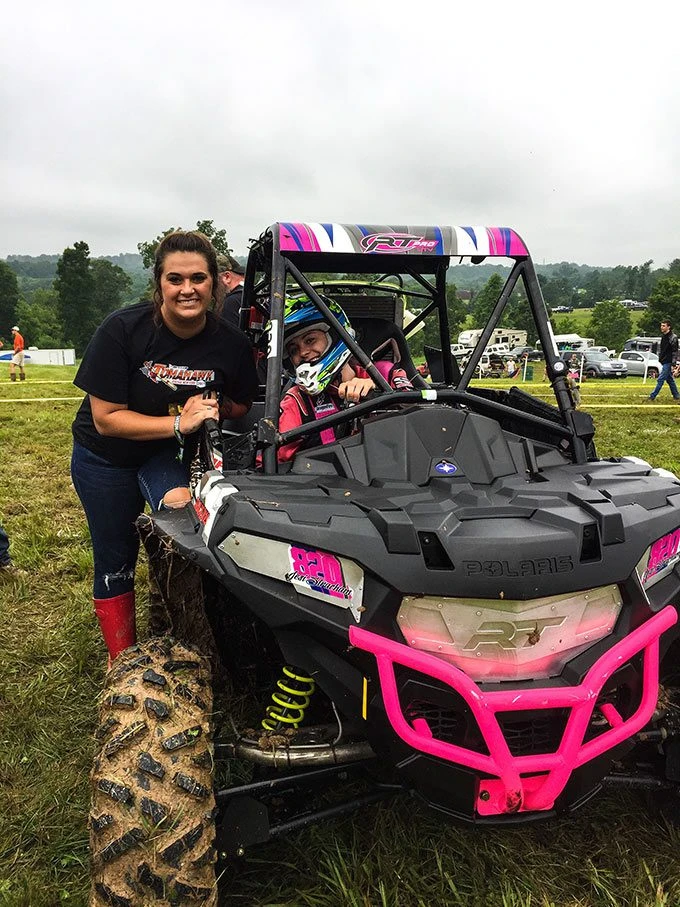 My best friend Cheyanne Shadron and I on the start
From Sunday Creek Raceway I headed north to Canton to visit my hometown. I stayed with my Aunt four days before heading east to Scranton, Pennsylvania to stay with my Stracham side of the family. It wasn't until after my injury I became close with this side. I stayed four days. One day I volunteered at the church during their children summer camp. My cousin Cassie and I attempted to hike the Nay Aug Park on a moderate abled bodied hiking trail. I ended up on the ground trying to see the waterfall, and also went up the steps on my hands with her holding my legs wheelbarrow style. I took part in the cousins pool party, seeing family I hadn't seen in years.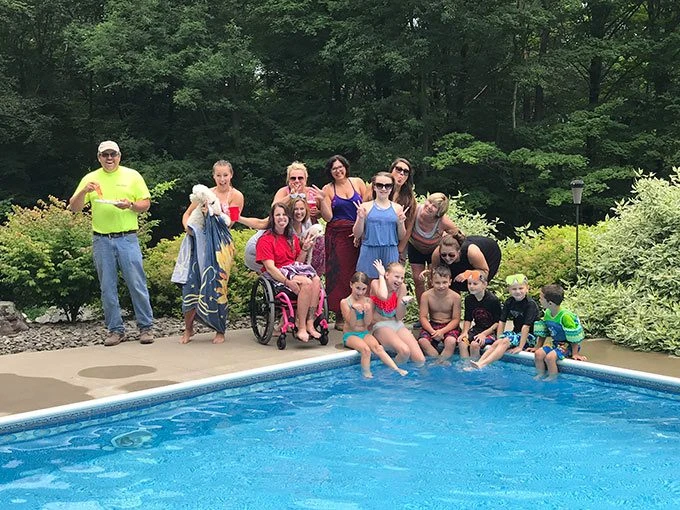 Cousins Pool Party
I left them to head North to New York where I visited my good friend Nikki. I was there two days before getting back in the car and heading further north.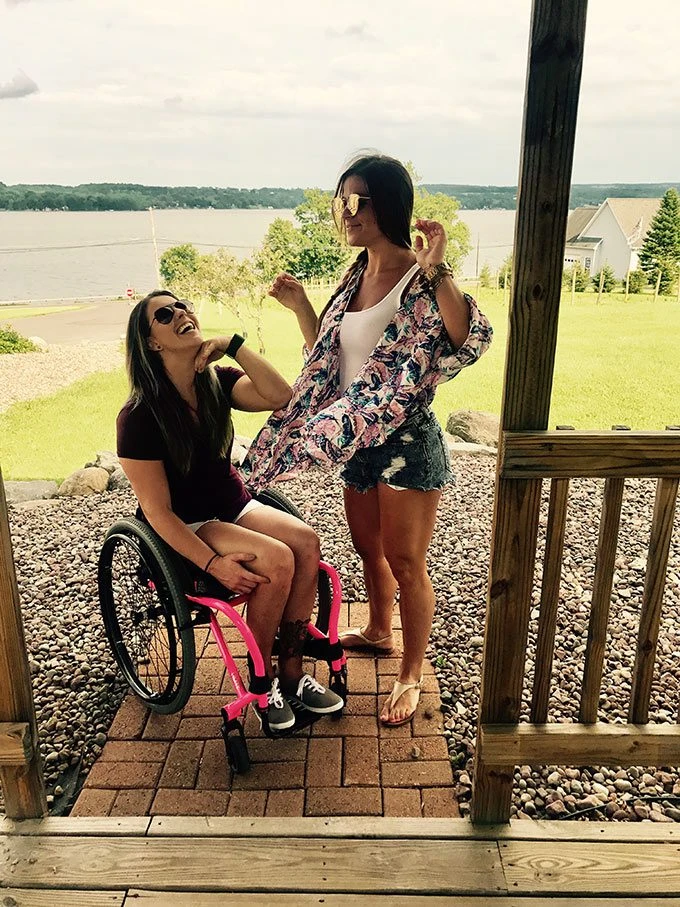 Nikki and I being Nikki and I
During my 6 hour drive to Cape Cod, Massachusetts, I had a friend tell me i should start recording my trips, so I broke out my camera and hit record. (The Wheel With Me Series will be released later this year.)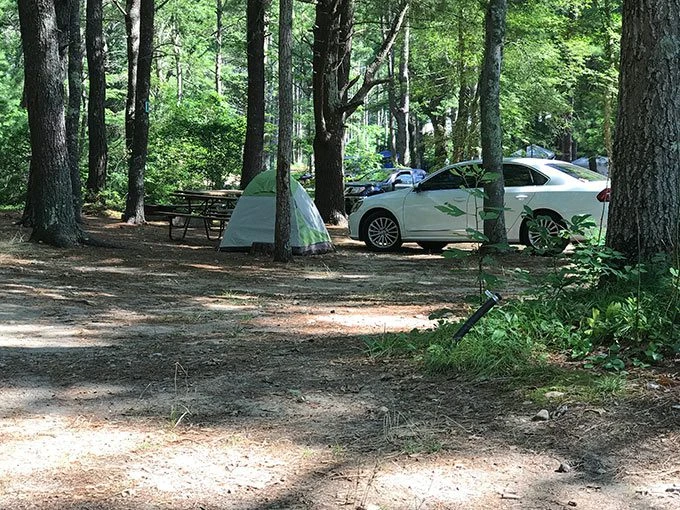 My campsite
I pulled into Cape Cod camp ground, checked in, then set up my tent. Adventure starts where your comfort zone ends. Camping on the cape, four days, by myself. This was a bit out of my comfort zone as I'm still not 100% at getting myself off the ground creating one of the most incredible experiences of my life. I pumped up my twin air mattress and placing my tempurpedic topper to prevent sores if it deflated on top. Strategically, I placed my tent next to the picnic table so I could use that to get in my chair in the morning, along with anchor my tent to it. I have a Kelty Grand Mesa II brand tent. I recommend this because the flap for the door zips perfect around your chair to protect it from weather. One morning I woke up to cath, and heard an animal out side of my tent. This animal sounded like it was growling. I had food from the night before inside with me. I thought maybe that's why. I stayed as still as possible hoping the animal would leave, but the growling continued. After about 10 minutes of my heart racing thinking an animal was about to attack, someone a couple sites over gasped for a breathe. It was just human snores. What a relief for me.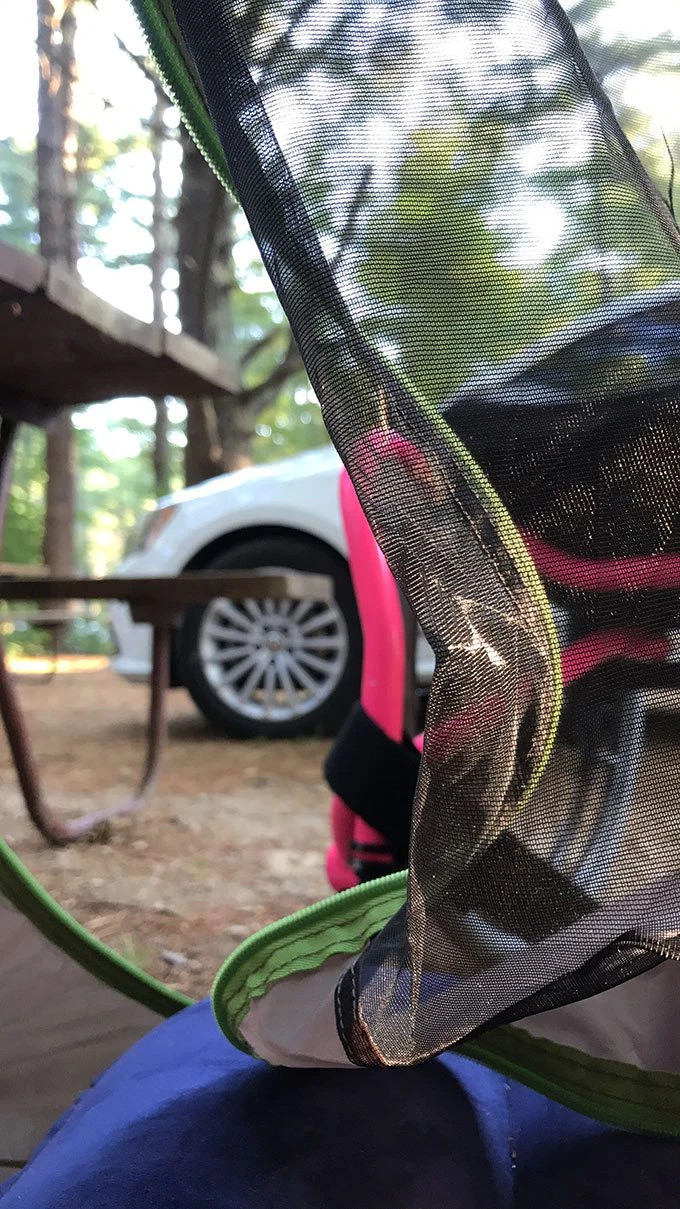 morning views
After setting up camp, I headed to Cape Cod Curling Club for ice practice. The next four days I would be competing in the Cape Cod Curling International Summer Bonspiel, along with Matt, Matt, and David. It had been a while since I've have ice time, so it took a while for me to warm up. By the end of the 4 days I had it together, but we fell short of making the finals.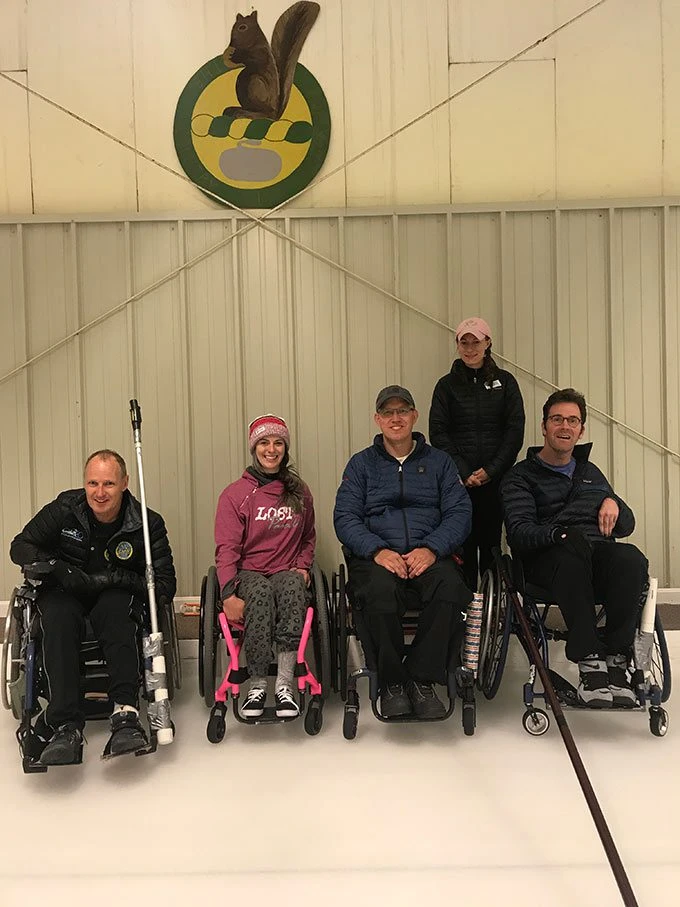 Matt, Myself, Matt, Jackie, and David.
I packed up shop the following morning, feeling refreshed, I headed south to North Carolina. Ahhh home, where the husky is. Until my next adventure….